Goalkeeper René Vollath played his 150th game in the 3. Liga – Germany's third division Befittingly, the 30-year-old goalie who plays for Türkgücü München fully defended his goal against the traditional club from Kaiserslautern, and celebrated a 3:0 win with his team.
Vollath's professional career began in the 2011/2012 season with his transfer from the TSG Hoffenheim reserve team to Wacker Burghausen. He was also deployed to Karlsruher SC where the B360 athlete played 39 times in the 2. Liga (Germany's second division). After some time spent in the west of Germany – where he was under contract to KFC Uerdingen – Vollath returned to Bavaria at the start of the current season, and now stands in goal for Türkgücü München in the state capital.
Vollath, who previously played for all the national youth teams, is full of plans for his new job with Munich's recent promotion to the third division: I naturally want to play my best football. The aim for the current season is to concede fewer than 40 goals, and for the other team to score nil in half of all games. These are ambitious aims for a newly promoted team – but they are not unattainable with our team."
But the native of the Upper Palatinate seems to feel at home at his new club both on and off the pitch. "Anyone who has followed my career knows I don't like change. I find the environment here at Türkgücü very interesting, and I believe we can really make a difference here. So at the moment I can definitely imagine wearing the club's red and blue strip, even beyond my current contract," says Vollath enthusiastically.
"We are very happy to have René as an athlete with B360°. He identifies 100 per cent with us and our work, and is a great role model for our young talent," underlines B360° Managing Director Laurent Burkart, adding: "We congratulate him on his 150th game in the 3. Liga, and look forward to many more games and more successful years of collaboration."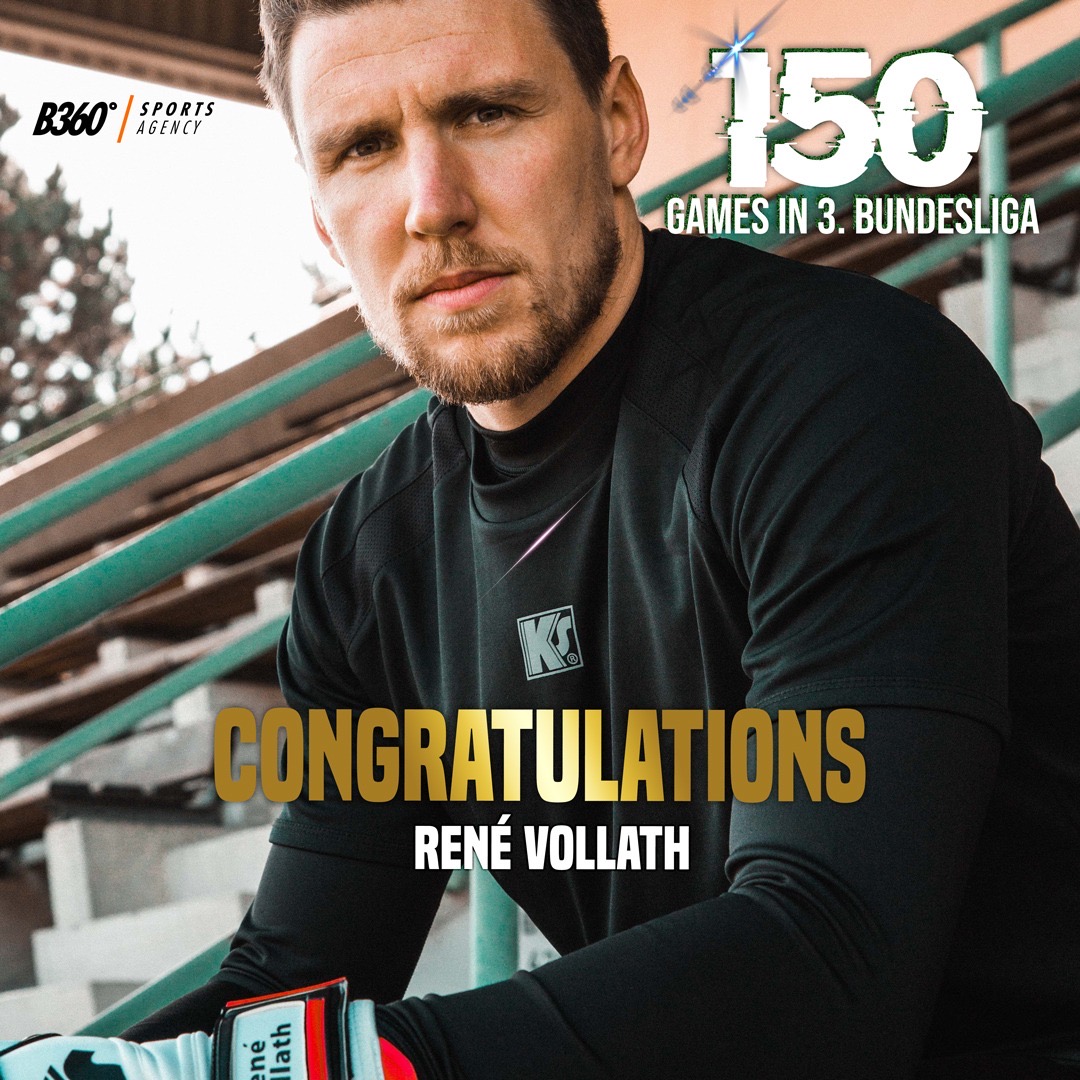 The latest B360° "Inside Football Out Of The Box" podcast features Laurent Burkart in conversation with René Vollath about his path to professional football and what his father has to do with it, his earlier career moves, and the goals the new Munich player has set himself for the future.
Listen to the podcast here: